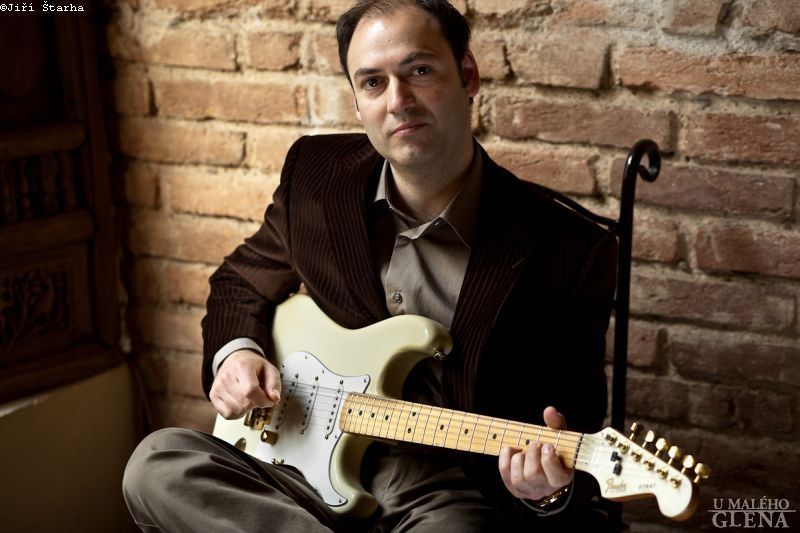 Adam Tvrdý - jazz, blues and crossover guitarist
How did You start playing guitar and why this instrument?
I was attracted to a guitar already as a little child. It was like a magnet to me so I wouldn't give my
people break until I finally got one from my parents when I was 6 years old. Back then no other
instrument came to my mind until the time of my first bands and because there were no bass players
around I got an electric bass and played it. I would also often sit behind the drum set. Anyway,
guitar is my lifetime love and it can be either acoustic or electric. This instrument's got a huge range
as it can be used in many styles like Blues, Jazz, Classical, Flamengo, Metal, Country, Folk, etc.
You can change it's sound and use many different techniques of playing..., just to learn all that is
kind of hard :>)

Out of all the musical styles You chose Jazz. Why?
It isn't so quite completely. I worked my way to Jazz gradually in both roles, as a listener and as a
musician. Just to learn to listen to it takes a while so it takes much more to learn playing it.
Therefore I've been sticking with it for many years. Although it's not only Jazz that I play. I very
much like Blues, Rock, Latin and Classical, and I switch types of guitars so the sound changes and
the instrument response inspires me so that my playing gets many different faces. No matter what I
play Jazz takes the strongest portion in the whole mix of styles. Playing Jazz is like living a free life
in a perfect world with reasonable rules of nature. You can do anything you like while respecting
these rules. Once You try to lie it's heard right away!

What about Your projects? Are you more of a leader or a sideman?
I like to be in both roles. To only lead all the time I don't wish. At the same time I have some
creative ambitions so in order to carry them out I have to lead my band. Currently I lead two bands:
Adam Tvrdy Trio mainly focused on my original music and could be labeled as a Modern Jazz
band. Recently our CD called DOUBLEWELL got released and it contains my original tunes only.
The other project I lead is called Adam Tvrdy Crossover Group. It's primarily a quartet but
sometimes reduced to a trio. I relax more with this band because we play some easier music. It's
mostly Blues and Groove Jazz. I'm also very interested in working as a sideman and I enjoy that
very much. The responsibility for the whole projects drops and that's relaxing. Of course I still feel
loads of responsibility for my own performance and my contribution to the project that I'm in.
What do You like about playing at U Maleho Glena?
Everything actually! Such direct communication with the audience it's hard to find somewhere else.