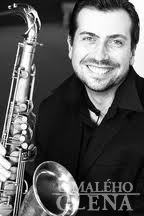 Karel Růžička Jr. - tenorsaxophoinst and composer

Your father is a well-known jazz pianist so you must have heard a lot of jazz at home! What made you want to become a jazz musician and composer? And why did you choose the sax as your instrument?
Jazz was always there for me as far back as I can remember. My dad continuously practiced and composed lots of big band arrangements for the Czech Radio Jazz Orchestra and for his smaller groups and other projects. He would take me to the Prague Jazz Festival at the Lucerna hall every year and I was able to stick around for rehearsals and watch. I saw Sonny Rollins and Dexter Gordon before I fully understood the magnitude of their mastery. This was in the early eighties and I was still too young to be hip to the music. My uncle had an old Amati alto saxophone at my grandmother's house and I used to squeak around on it every weekend when we went there for lunch. I must have driven my folks absolutely bananas! But, as fate would have it, I spent a good part of my early teens studying trumpet and later trombone, because my family tried to steer me towards a career in the classical orchestra. I was accepted to Prague Conservatory on trombone and after two years I transferred to Conservatory of Jaroslav Jezek to study saxophone. One of the defining moments was hearing the Chick Corea Electric Band live, with Eric Marienthal on saxophone. That is still one of the best shows I have ever seen. Then I heard Michael Brecker in 1989 and that was it for me, I was hooked! Shortly after that I got my first tenor saxophone.

Which cd/recording was the most important influence at the start of your playing? Why?

To tell you the truth, I have always listened to a wide spectrum of music. I remember listening to 'Don't Try This At Home' by Michael Brecker, 'Eye of the Beholder' by Chick Corea, 'Steps Ahead', 'Kind of Blue', 'Tutu' and 'Amandla' by Miles, for example. A big one for me was Antonin Dvorak's 9th Symphony (From the New World). Simultaneously my dad hipped me to John Coltrane's 'Giant Steps', 'Blue Trane' and 'A Love Supreme'. I am so grateful to my father for exposing me to all this great music.
Which players had a big influence on you – and who has a big influence right now?
This alone could take up our whole interview... Definitely my dad, Miles, Trane, Bird, Cannonball, Kenny Garrett, Clifford Jordan, Hank Mobley, Dexter Gordon, Mike Brecker, David Sanborn, Eric Marienthal, Bob Mintzer, Joe Henderson, Wayne Shorter,Horace Silver, Monk, Joe Lovano, Jaco Pastorius, John Patitucci, Herbie Hancock, Chick Corea, Keith Jarrett, Brad Mehldau, Jeff Tain Watts, Branford Marsalis, Sting, Vinnie Colaiuta... From our generation I dig Chris Potter, Seamus Blake, Mark Turner, Donny McCaslin... All the musicians I am fortunate enough to be playing with. As you can see my influences are not limited to my instrument, and when it comes to listening I am generally more interested in what is happening within the group, how the musicians interact.
You play quite a lot of original compositions – what inspires you to write new music?
Lots of the ideas come from practicing my saxophone. It may be a couple intervals, maybe some chromatic line which catches my ear. Another time I may be sitting in my studio playing keys and I would come up with a chord progression or a bass line and then write a melody to that. Or I may be walking or riding my bike in the park and I would just hum some melody until I get home to the piano... The more things you write down, the more receptive and ready you are for the Universe whispering its song to you. Some people do not compose because they either judge themselves or because they are waiting to get "inspired". So instead of writing, they wait forever and nothing gets done! There is a proven winning formula: Composition = 1% Inspiration + 99% Perspiration!

Can you tell something about your most recent recording?

Most recently I played on and helped produce couple of tunes for my friend, bassist Andy Galore on his upcoming album on the Motema label. It features some real great musicians on the NYC scene - guitarists Mike Stern and Oz Noy, keyboardists Jim Beard, Jon Davis, Max Haymer, Adam Klipple and Jason Lindner, Joel Frahm, Bob Franseschini and myself on saxes and Greg Hutchinson and Kenny Wollesen on drums. I am planning to record and release more material later this year with my quartet, [CPR]Electrio and I will go to the studio with a collaborative organ trio I co-lead with Czech player Ondrej Pivec and drummer Russell Carter.
What are your most important current projects?
My main two projects are my quartet [CPR]Electrio and the trio with Ondrej Pivec. Also I am touring with Michael Franks.


What is the most challenging situation for you as a player? Why?

There is definitely more than one – actually each situation presents its own set of challenges. For example with Michael Franks I am doubling on tenor, alto and soprano saxophones and flute. You have to be ready to change the instrument at the drop of a hat! So that requires a lot of focus and planning ahead. Then I am getting lots of calls for a last minute subs in various big bands around town. You have to sight read and play all the doubles on the job, no rehearsal. This is what makes it all exciting...

Do you think it is important for European musicians to visit the States?
I think it's absolutely important! Jazz is primarily an American music. Of course there is a lot of great European jazz, but you have to go for the roots. You have to check out Harlem, all the clubs in the Village and New Orleans to get the real vibe. Jazz is a living thing and it is as much a philosophy as it is music. If you want to achieve anything meaningful, you have to leave your comfort zone. If you are no longer a big fish in a small pond, you had better swim nice and fast so you don't get eaten by the sharks!! This whole experience is not for the faint hearted, but is awesomely rewarding in terms of lessons learned. On the other hand it's important to go 'to the roots' wherever you are. Check out some Czech, Moravian and Slovak folklore, Gypsy music from Hungary and Bulgaria. Or Spain... All the most influential jazz musicians studied various forms of world music. Jazz is about being authentic and open-minded. It's the universal language.

What do you think about the jazz scene in Prague right now?
There are now so many great young and old musicians in Prague. I am very hopeful for the all the young cats just coming out of school now. The crucial thing is to have enough venues for all these fantastic musicians to play at... In this respect Prague scene is starting to feel the effects of being over-saturated - too many musicians competing for not so many places to play. It's a lot like New York in this respect. That's why it's so important to be flexible and versatile - write original music, produce your own albums, place them in movies and TV, work with artists from different genres, teach etc. In the 21st century there is no room for snobbery. "No Room For Squares" as Hank Mobley so deftly called one of his records.

What do you like about performing at U Maleho Glena?
It's the blast from the past every time I come back. I have many wonderful memories from here and I can't wait to create some more...


This is Musicians Voice! Is there a question that I missed, which you would like to answer?
It's been a pleasure talking to you - and let's save some things for later!
by Tony Addy in 2011