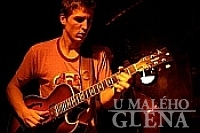 What started/inspired your interest in blues music?
I began listening to music at the age of 3! My father would rather listen to his LP's than play with me. So we listened to music and played together at the same time. Early on, I really liked melodic music (Queen, Mike Oldfield), but from 6 years old, I started to prefer heavy stuff like AC/DC and Led Zeppelin. When I was 6, my mother put me into the classical guitar lessons. But when nobody was looking, I tried to play simple riffs that I heard at home - Deep Purple's 'Smoke on the Water' for example - and this was really difficult for me that time. After 10 I really fell in love with Led Zeppelin and I had the complete studio recordings, but I especially like their first two albums. I discovered that what I like is called 'the blues'. I went to the CD store with my father and asked for some blues CD`s. My knowledge of the genre was very poor but I was lucky because I bought two (for me, fundamental) records. ZZ Top, 'One Foot in the Blues' and Eric Clapton, 'From the Cradle'. These two records started my blues journey.


Who are your biggest influences?
After Eric Clapton's 'From the Cradle', which was something like blues guidepost for me, I discovered that the blues was mainly the domain of Afro-American culture, so I started to explore many of the great names. It is hard to say who the biggest influence is, because I have had many over the years. At the beginning they included Jimmy Page, Eric Clapton, Jimi Hendrix, B.B.King, Buddy Guy and Stevie Ray Vaughan. But later, Albert Collins was important for many years, followed by a whole list including Freddie King, T-Bone Walker, Lowell Fulson and Junior Guitar Watson. By the way, I also enjoy listening to other genres of music, not only the blues.

Why then, is blues music important to you?
Because I feel it is the most natural expression for me, I feel it is real, it is not a 'fake' and it touches my soul.


Aren't you just repeating music from the past?
To repeat the good and not repeat the mistakes is not bad! I wish we could do that in our lives and society as well. I'm not only repeating, I'm performing and building my own 'house style' from bricks made by someone else. I really appreciate the work of the masters and they are my basic inspiration. I don't feel I'm the one who has to change everything and make up a new style! The new is not always better! I'm trying to put something new from inside me – from my approach - into blues music, whilst respecting the roots of this music.
What do you like about performing at U Malého Glena?
UMG is very small club with great atmosphere. I like when the music is played so close to the people. They can feel it very well, they can be part of it and we are enjoying the stuff together! It is also the club where I have met the first real live blues as a teenager.