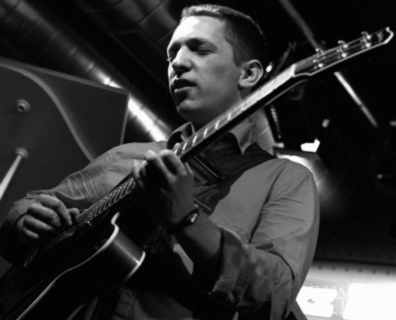 How did your interest in jazz develop?

I used to listen to other genres before I became obsessed with jazz. Mostly The Beatles and Nirvana! The MTV unplugged live album of Nirvana led me to blues music. Blues led me to jazz. After approx 10 years of listening solely to jazz I now started to listen to other genres again. It means a wide range - folk, country and pop.

Why do you like to play jazz exactly?

I guess I am destined to it. The overall sound vibrates with my personality and has always attracted me. But it's mostly the improvisation and the communication via music that I really enjoy every night I play with a band. It gives a wide space for self - realization.

Who are the most inspiring players for you?

Jazz guitarists mainly Wes Montgomery, Charlie Christian, Jim Hall, Kenny Burrell, Herb Ellis, Ed Bickert, Pat Metheny, Kurt Rosenwinkel and my beloved Peter Bernstein. Other Jazz musicians - Bird, Coltrane, Miles, so many more! Outside jazz – The Beatles, Bob Dylan, Michael Jackson and lately especially James Taylor (the singer / guitarist).

You play quite a lot of original compositions – what inspires you to write new music?

I do not spend much time composing. I rather "wait for a tune to find me". I am not sure where exactly the inspiration comes from. Only now it tends to come in every now and then in certain periods. I can't force it when the time is not right.

Can you tell something about your most recent recording?

It is a live recording of my Prague quartet, entitled "Live at Jazz Dock". It's my first live album. I am very happy with the result, especially that my musicians sounded great. The members of the band are Petr Beneš (piano), Tomáš Hobzek (drums) and Josef Fečo (bass). In order to get the music to the widest audience possible we decided to offer the album to be downloaded FOR FREE on our website www.liborsmoldas.com. We've had quite a big success with it - since December, more than 1500 people downloaded it. The album contains solely original compositions. You can also buy a cd at our concerts.

6. What is your current most important project?

It is the American tour in March and April. We will be on tour 3 weeks, playing 9 concerts. Worth mentioning are gigs at Smalls - New York, Trumpets - New Jersey, Czech Embassy - Washington DC, WCU Jazz festival - North Carolina. We will also record a new album there.