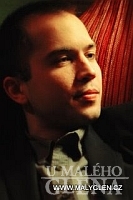 Which pianist is the biggest influence on you? Why?
My biggest influence is Kenny Barron. The reason is that he played with both bebop legend Dizzy Gillespie and Stan Getz. His lyrical style is influenced by bebop and Brazilian music, which is the combination I like.

What is your most important project right now?
My most important project is Tomas Jochmann Quintet. The band is made up of musicians who love jazz and respect its roots.

Why do you like playing with Roman Pokorný - Swing Time
Because I like the way Martin Sulc plays the drums :-)

Do you think there is something special about playing in U Maleho Glena?
There is very nice jazz atmosphere because the club is a small space. Therefore there is good communication between the musicians and the audience.

What do you think about the jazz scene in Prague nowadays?
I think there are very few 'jazz' bands in Prague. Many of musicians are
trying to play the music 'differently', but only because it is fashionable to play in a 'modern' style. Because they don't respect the roots of jazz, the result usually sounds 'average' and not true! It is as if someone wants to be poet and
doesn't know the language!