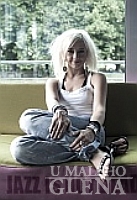 What started your interest in singing?
Already in my childhood, I sang in several choirs and I spent 12 years with one of them. It was the internationally famous Bambini di Praga. We traveled a lot, Europe, Japan, America, South Korea...so I tasted the world of artists, music and stages and I liked that! Secretly, as a child, I was dreaming of singing in a bar, with the piano, people relaxing, drinking smoking....but I did not know exactly how it could happen! Then I tried both classical singing and musicals but neither was for me! There was not a lot of freedom in the style and too many rules! Then I found out there was a school for jazz in Prague...
Why do you like to sing jazz exactly?
There is so much freedom in it, almost nothing can bind you! I have so many ways to express my voice and my whole personality. I like the intimate atmosphere of jazz clubs, the people around jazz music. It just fills me up like nothing I have tried before
What are the biggest influences on your music?
It is a hard question. In the past I did not listen to jazz a lot! I started with Pink Floyd, Doors, Led Zeppelin.....these were my idols. But lets come back to jazz. My dream singer always was Diana Krall, then Shirley Horn and recently Dianne Reeves. There are many others, but these are the best. I love Bjork, too...
What is your most important current project?
My contemporary project is my band, Veronika Vitova Crew. We have prepared the Tribute to Bill Evans project. Once, I discovered his whole songbook in my computer and I found that there are only a few singers, who do his pieces. So we decided write new arrangements for these songs and reinvent their beauty for the audience. His music is quite complicated and not easy for a singer to interpret, but it sounds very harmonic, calm, interesting.....We want to make a cd of it next.
What do you like about performing at U Maleho Glena?
Especially the intimate athmosphere of such a small club. The audience becomes a new friend during the evening, as they are so close to you.