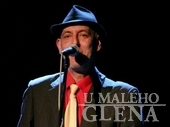 What first got you interested in playing the blues?
It was in 1970, when I heard the record, 'Live Wire - Blues Power' by Albert King. It was then that I knew that I had to learn how to play this way! Prior to that, I was playing rock music of the time, like Led Zeppelin, the Stones, The Who, Ten Years After, Santana, etc., but it all changed with that one record. I started looking for more and more blues records.
Could you mention some of the influences from your early days and tell us why they are important to you?
Well, I would say Albert King, Magic Sam, Louis Myers, Muddy Waters and Junior Wells were the most important. These were the first blues LPs I ever had, and played them over and over again, while trying to imitate the riffs and licks. T-Bone Walker, BB King, and Earl Hooker are my other major influences.
However, as far as the actual blues guys I got started with, I would say Buddy Scott first and foremost. He was my teacher, mentor and friend. In the mid 1980's I was following his band around Chicago, and would sit at the first table by the stage and watch Buddy's guitar playing, and then rush home to try all this great new stuff! It was after about 6 months of following him around, going to his Blue Monday Jam Sessions every Monday night at Rosa's lounge that I finally got to know Buddy, his band, and his musical family.
The "family" included his brother, Walter Scott, who is still alive and still playing blues! Walter Scott is one of the best guitar players that I ever met. He made other people and their songs sound better. When I first met him he told me that I sounded pretty good when I solo, but needed to work on my comping, chords, and my right hand. It was because of Walter's 'reality check' that I then went on a 'mission' to improve these areas of my playing. Walter is one of the best in the business and the 'chord-master'!
After that, I started getting hired to play guitar. My first professional gig was with a really good guy named Nate Turner. He took me to Murphysboro, Illinois and a few local places in Chicago to play those first ever gigs with Nate Turner and The Windy City Blues Band. Sadly, I read recently that Nate passed away earlier this year.
I would also mention Mr. Byther Smith, a fantastic Chicago blues-man, originally coming from Mississippi. I was fortunate enough to work with Mr. Smith, who took me to play some gigs in Beale Street, Memphis, which was really a big deal for me. The man is a really extraordinary talent, with incredible intensity, and a guy who showed me what being a blues-man is all about. He is a perfectionist who knows how it is supposed to be played, and insists on that. It was from Byther Smith that I learned a lot about 'chord voicing' and 'ensemble playing'. It changed my whole approach to blues guitar. The good news is that Byther is still out there playing too. I owe him a lot and glad he was so tough on me. He once sent me home from a club we were going to play and told me: "Put on some 'real clothes' and come back!"
Which guitars do you own and why are they important to you?
I've got 5 guitars at the moment, but really I almost exclusively play my Fender Stratocaster for gigs, with an Epiphone Riviera II as my first back-up. At home, I play my Cort Acoustic or my 1957 Kay, an arch top, semi-hollow body electric.
The Stratocaster is my favorite because of the versatility of its sound and tones. It's like 3 guitars in one somehow. You can get a faux-Telecaster sound, as well as a semi-hollow body, Gibson, ES-335 box-type tone, and even tone that approaches a Les Paul solid body type sound. The Stratocaster is easy to play, even with thicker gauge strings. I am totally dedicated to my Stratocaster played through my 1965 (Original) Fender Deluxe Reverb amplifier.
It's taken many years of trying different set-ups to arrive at this combination which includes not only the guitar and amplifier, but a certain brand and hybrid-set of string gauges not sold as a set pack and a particular brand of vacuum tubes which are used in the Fender Deluxe Reverb amplifier. No effects, pedals or even a tuner plugged in between the guitar and amp, which all affect tone. It's really weird, to me, how people will go out and spend $2000 for a vintage amplifier, and then reduce its tone by using a $20 tone pedal with a 9-volt battery in it!
Who do you rate as the top blues musicians nowadays?
There are simply too many to name here, seriously! Unfortunately we've recently lost some real giants, like Robert Jr. Lockwood, Pinetop Perkins and Willie Big Eyes Smith. Thankfully there are a lot of really great guys out there. I'd rather not start some long list of people and possibly forget to mention someone, or list 50 artists here! Suffice it to say, the blues is alive and well, and the music is being very well represented today, by both veterans and younger stars as well. From the contemporary scene, I'm a big fan of Duke Robillard and Ronnie Earl. I also dig Junior Watson, Eddie Taylor, Jr., Billy Flynn; Nick Moss, and so many others.
What is your current recording project?
I'm recording a new CD of mostly original songs. I've been in the studio and very recently finished recording the songs with the band. Now the mixing, mastering, and all those details will begin and I hope it will be released by the end of the year, or at the beginning of 2012.
What is exciting about this recording for you?
Firstly, the fact that it is mostly original songs. Then the musicians on the CD - I am really, really pleased with the sound of the band on this record. It all starts with my collaboration with my producer and Hammond organ and piano player, Jan Kořinek, to whom I went to with my originals, concept, and ideas for this new CD, and we worked together on the final arrangements prior to getting the other musicians into the studio. In addition to Jan Kořinek on keyboards, I am working with Martin Novak on drums, and Jan Tengler on bass. About half the songs will feature horns, a section headed by Osian Roberts, an incredible tenor saxophone player from Wales, UK, and a few other surprise guests, but you'll have to wait for that...
What is coming up for you in the next months?
Well, first, hopefully getting the CD released, but in November I go to Lithuania and play some concerts there with a band from Vilnius. In January, I go with the band to Austria. Then, in February and March I have a big tour in Czech Republic, about 12 concerts, with my trio project, with Jan Kořinek on keys and Tomas Vokurka on Drums. So I'm trying to keep busy!
Last but not least, why do you like playing at the club U Malého Glena?
It's a great venue with super connection to the audience, which is really the way that blues and jazz, especially, should be presented. I don't believe that someone can have a more personal musical experience in Prague than at Glen's. It's accessible, up close and personal. Throw in the great staff, and cool atmosphere, and, there's only one Glen's! There is nowhere else quite like it! In my many years' experience of playing there, I can say with certainty that people love the club. I've heard it hundreds of times from people after concerts! In fact, some people prefer to see the band and at Glen's rather than other venues in town.
Interview by Tony Addy