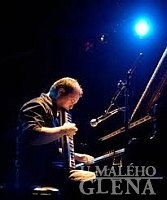 Marc Aanderud - pianist and composer
You have many musical influences in your background but what is special for you in playing and writing for jazz piano?
That's a good question! Jazz basically means a place where everything gathers, the place where anything is possible and the place where I can just do what I feel like doing at the moment of playing. Of course jazz is a style, a language and I study and respect it, but I don't pay tribute to it every night. Actually I use it to get as far as possible from it.


As someone with roots in Mexico and North America, what is interesting to you in the jazz music scene in Prague?
Well, the thing that I look for the most here is to play how I play! I know my energy and background is very different from musicians here and I just want to transmit all those different experiences to them - and to the people. It usually complements very nicely and the music grows greatly

What music are you listening to at the moment? What do you like about it?
I don't want to sound arrogant or anything, but I don't listen to much jazz lately, I am trying to influence myself from other things, so that I have a more interesting proposal in my music. There's a point, at least in my life, where I listen to other's music as a reference to what has been done, or what others are doing – and of course for the enjoyment of listening. It helps me distinguish my own musical language, to develop it better and make it more 'me' every time.


What are your main projects right now?
I have two collective projects! 'Mole' is a quartet I recorded with the great David Gilmore, Hernan Hecht and Luri Molina. And I have duo cd with the great Argentinian drummer Hernan Hecht. But my main project will be a new CD and I will record it in the USA and Mexico in November. Actually we perform some of that music in Glen's with my trio – which is a different one to the one I have in America.