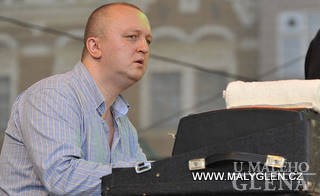 Naj Ponk
When did your interest in jazz start?
My interest in Jazz started when I was very young. I heard the 'giants of jazz' from my father´s record collection....Woody Herman, Louis Armstrong, Duke Ellington, Stan Getz, John Coltrane, Count Basie and many others....but if I remember that right I started with classic rock'n'roll from the 1950´s! That´s my stuff! And after that I got into rhythm and blues and my third step was to jazz!

Which musicians influence you most?
Many great musicians influenced me deeply! I don´t know where to start?! I would say the first main guys for me were Elvis Presley, Chuck Berry, Jerry Lee Lewis, Carl Perkins, Little Richard, and later The Beatles. Then came blues legends like Muddy Waters, B.B. King, Sonny Terry, Robert Johnson, Otis Spann....and later Jimmy Smith, Bird, Miles, Monk, Bud, Trane, Bill Evans, Eric Dolphy, Dexter Gordon, Oscar Peterson....just to name a few! But the biggest influence would be Louis SATCHMO Armstrong! He's the man!!!!

Why do you like to play jazz?
Well, jazz music has special kind of feeling, which you can't compare! It's just a great feeling to play some swingin' piece of music with guys you like to play with....

You were in New York recently – can you tell us something about that?
New York is great place to be, whole city swings! It was fantastic experience! Every jazz musician has to visit New York! I met my piano hero Junior Mance again! He performs every Sunday at Cafe Loup. He is 82 years young and still plays great music! I didn´t play with George Mraz there, but we met in pub for couple of beers!!

Can you tell us something about your newest recordings?
My solo piano cd 'JUST FOR MY FRIENDS' was originally producer Paul Vlcek's idea and I liked that from the first moment! It's my only 'live' cd! I have also recently made a recording with Greg Hutchinson (drums) and Ondrej Pivec (Hammond B3) - called 'IT'S ABOUT TIME' – it's cool and easy swingin'! There will also be new solo piano cd out soon, recorded in Brooklyn last September. I combined piano and Fender Rhodes for some tracks, and I'm very happy about the results! It sounds very good!

What I noticed is that you are also a 'metal' fan – and you have played a crossover concert of jazz and baroque music – so your musical interests go way beyond jazz?
Yeah, metal is powerful shit! That´s right! It´s a long way from Led Zeppelin and AC/DC to bands like Whitechapel or Misery Index....! These guys are real virtuosos and fantastic musicians in their own way! I saw the Lamb of God show in Prague last year; it is amazing how they can play a concert in front of 150 people....KILLER!!!!
The crossover between jazz and baroque music was idea of my girlfriend, wonderful harpsichord player, Monika Knoblochová. I didn't know how to catch it, but after a while we found our common language....I like our programme very much!



What about the Prague jazz scene and U Malého Glena?


The Prague jazz scene is growing, it's good! And playing U Malého Glena is inspiring and always new! I like that place also as a visitor....actually it´s only club where musicians are so close to the audience, that could be magic....
Any other comments?
I have one question! Where did Jimmy Hoffa disappear?